Junk Removal & Hauling Service in McKinney, Texas
Local Junk Haulers in McKinney, Texas
Dallas Junk Guys is a reliable and professional junk hauling company known for offering state of art junk hauling and junk removal services in McKinney, Texas. As a full-service junk hauling company, we are proud to offer a vast array of junk removal and junk hauling services in McKinney, Frisco, North Dallas, McKinney, Plano, Allen, and Richardson areas of the state of Texas. Whether you want to haul away residential or commercial junk, contact Dallas Junk Guys for expert junk hauling services in McKinney, Texas. We guarantee you'll get a clean and junk-free space.
Our McKinney Junk Removal & Hauling Services At A Glance
Home Junk Removal: Most homes have some degree of junk. . Decluttering is an essential step to make space extra space for your existing items. Refresh your home by removing unnecessary residential junk. Junk hauling services can make your home free of clutter.
Office Junk Removal: Many businesses have their corporate offices located in McKinney. Over time the office too, has its share of junk in form of old electronic products, furniture, discarded files, and other scrap items. Give your office a more spacious, clean, and organized look by hiring expert junk haulers in McKinney. Learn more about our office junk removal services.
Furniture Removal: Tired of that old bulky furniture at home? Want to buy some new furniture pieces to enhance the interiors of your home? Give us a call and we'll haul away all your old furniture to pave way for the new one. We'll ensure that, if possible, your old furniture can be recycled or refurbished for further use by someone in need.
Debris Removal: Renovation or construction projects produce a great amount of waste, dust, dirt, and debris. Dallas Junk Guys offer post-construction debris removal services and we'll haul away all your junk, too. Give us a call and let us handle the details.
Basement/Garage Cleaning: Is the thought of basement/garage cleaning causing you stress. Basements, attics, yards, garages, etc. are some of the most neglected areas of every home. Most of the junk is stored in all these areas. Hire us to declutter your basement, garage, attic, yard etc. with our expert junk hauling services in McKinney, Texas.
Rental & Storage Unit Cleanout: Every tenant prefers nice, clean, and well-maintained accommodations. Junk left by former tenants should be removed. If you are a landlord, make use of our rental unit cleanout services. You will appreciate a  thoroughly cleaned and junk-free space. To maximize the chances of early occupancy of your rental unit, hire our expert junk hauling services in McKinney.

 How Dallas Junk Guys Stands Out from Other Junk Haulers in McKinney, TX

At Dallas Junk Guys, we strive hard for offering high-quality state of art junk removal services in McKinney., TX. Here are some important features of our junk hauling services:

No comprise with quality
Expert, amicable, and courteous staff
No hidden cost, fair pricing (inclusive of labor, disposal & transportation costs, etc.)
Flexible pricing facility
We follow environment-friendly practices
We offer a virtual quote facility (without invading your privacy)
We are insured
We offer same day, after hours, and weekends service (subject to availability)

Your McKinney Dumpster Rental Alternative

Are you thinking of hiring a dumpster facility in McKinney, TX? Our trucks are capable of holding junk equivalent to that of eight pickup trucks. You call, we haul.  Hire us and get ready to experience our seamless junk hauling services in McKinney. We'll make sure that you get what you have paid for. Call us for our expert junk removal and junk hauling services in McKinney, we would love to help you.

McKinney is a suburb of the DFW metroplex and a city and county seat of Collin County, Texas. It is the second-largest city in Collin County after Plano. McKinney offers an excellent quality of life, a diverse array of housing options, and a historic downtown area. At Dallas Junk Guys, we value our commitment and won't make compromises with quality. We are committed to the safe and proper disposal of your junk by adopting a sustainable & professional approach.

How Much Does McKinney Junk Removal Cost?

At Dallas Junk Guys, you have the following payment options

Flat rates
Hourly rates

Click here for the details of what we do.

We will haul away anything from the big and bulky, to the small and pretty much anything in between.  Our mission is to serve the community and meet the McKinney junk removal needs of residents. Call us today or schedule your service and enjoy special introductory offers and discounts.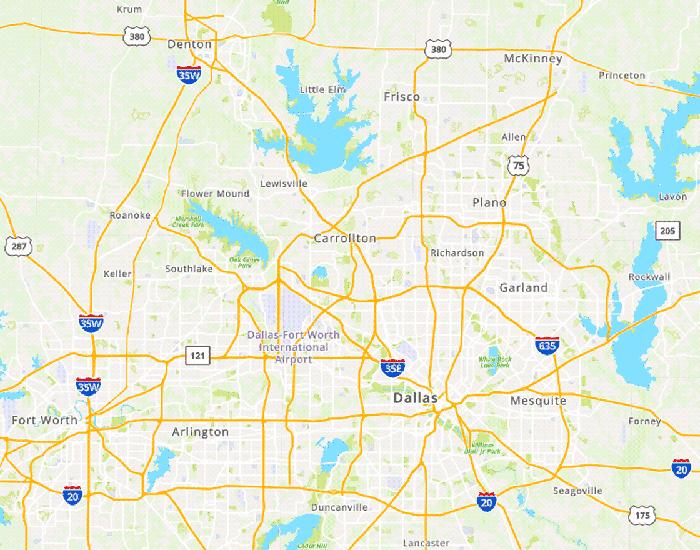 Our Service Area
We serve the Dallas and Fort Worth areas, providing professional junk removal services for homes and businesses. Give us a call.
Get a FREE Virtual
Non-Contact Quote
to Haul Your Junk
and Get $20 Off!
We're ready to help!
Same-day service available on off-peak days.
We offer virtual quotes only. Ask for details.